Oreo, a rescue dog who lives in Anchorage, Alaska, is a Giant Alaskan Malamute who very much views herself as a queen.
My cat Dorjee, a rescue from Heart and Soul Animal Sanctuary in Pecos, NM, is very playful and loves his catnip. He won't be driving or operating heavy machinery, so I figure it's okay.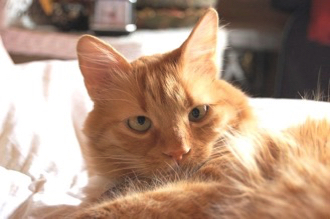 Weemie, who roomed with us for a few months with his mom, was rescued from the streets of Istanbul, Turkey as a tiny kitten. He's a bit of a wild man, and a well-traveled cat, having lived in New York, Santa Fe, L.A., and Scotland.
RIP, Buddy and Bubbles, an inseparable brother and sister Maltese pair. They had long and healthy lives because their mom fed them all kinds of special algae supplements, and kind of spoiled them, but they took good care of her too. They were especially fond of shamanic drumming and always came running to sit in the room when the drum was brought out.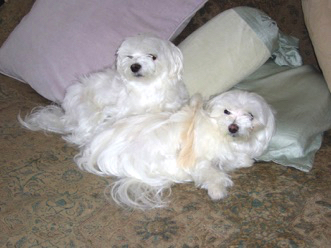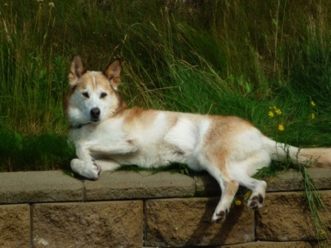 RIP Sunny, a handsome Husky who lived with Queen Oreo in Anchorage, Alaska. When Oreo said she wanted a friend to play with, Mom and Dad found Sunny at the Valdez Animal Shelter. Like a lot of Huskies, Sunny loved to run (away) but he also loved his head rubs and, as his Dad says, "two hots and a cot." He pass peacefully in June, 2014, surrounded by his mom and dad, me, and another auntie who took care of him when mom and dad were traveling.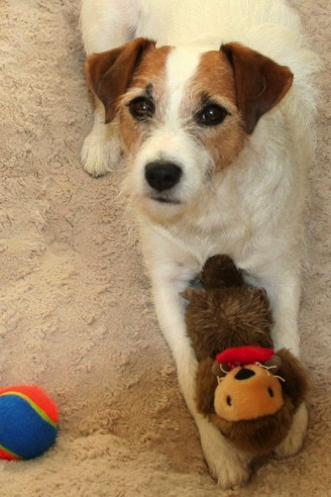 Photos by Joanne Thordarson
Loki, left, really wanted a little sister to play with. His mom was looking at many rescue dogs through petfinder,com, but hadn't found the right dog. Then one day someone offered Tara, a Lhasa Apso puppy, as a gift to their family. We talked to Loki (see Sample Chat heading above) to get him ready for his baby sister. Later Loki decided he wanted to move on to a situation with lots of space, and found the perfect home.
My cat Yeshe shows great meditative concentration. Sometimes I think he uses the meditation cushion more than I do! He also helps with energy healings, just as Dorjee does, and as Shimi always used to.